CEO Blog
OpenText World 2023—Welcome to the AI Revolution
Welcome to the AI Revolution.
AI is not just a technology, it is a new ontology—for creativity, data, trust. No business or individual will be spared this new way of being.
At OpenText World 2023, we discussed our massively expanded mission around AI and information management. We showcased the incredible innovations available to our customers right now, the exciting capabilities coming soon, and how we are helping organizations pilot the AI journey ahead.
AI + Information Management
What makes great AI? Great information management!
Great AI needs great information management
The OpenText Cloud delivers information management + AI for powerful disruption. Our cloud is a data cloud and ingests vast amounts of information types—documents, video, voice, images, collaboration, records, archives, assets, cases, contracts and more. For organizations plotting their AI journey, OpenText helps you bring your data into one place, and layers in AI capabilities—such as decision support, risk management, automation and security.
We have been working in this AI arena for over a decade, with our foundational AI solutions in OpenText Magellan, IDOL, Vertica and more.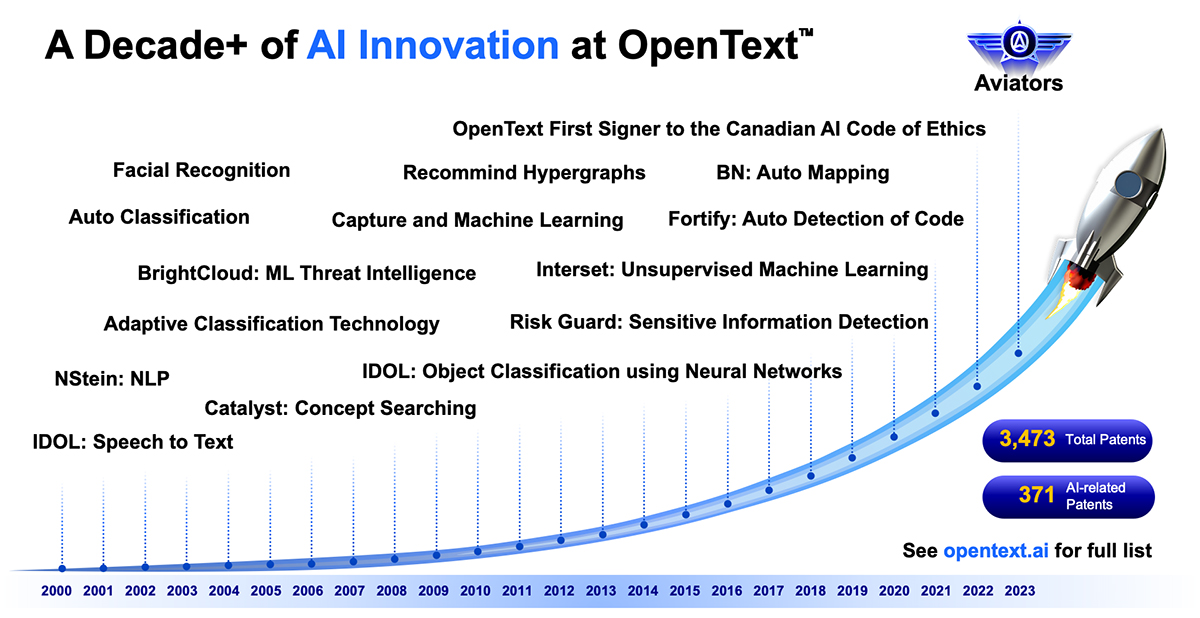 A decade+ of AI innovation
We aim to build on this expertise in profound ways. Let me be clear—generative AI is not our destination. It's a waypoint. We believe the destination is artificial general intelligence (AGI). We intend to deliver key components leading to AGI—metadata vectorization, IoT, robotics, natural language processing, learning models, data trust and security.
This is a multi-year path. Computers and software have done calculations for us our entire lives and are now providing support for decision-making. But AGI will move beyond support, and actually make decisions for us, safely and ethically. This is a profound shift. We will experience a hundred years of progress in the next 10 years.
Introducing OpenText Aviator
The next leg in that journey starts now. Because great AI requires great information management, we are introducing OpenText Aviator, a full stack suite of AI capabilities, built into our business clouds.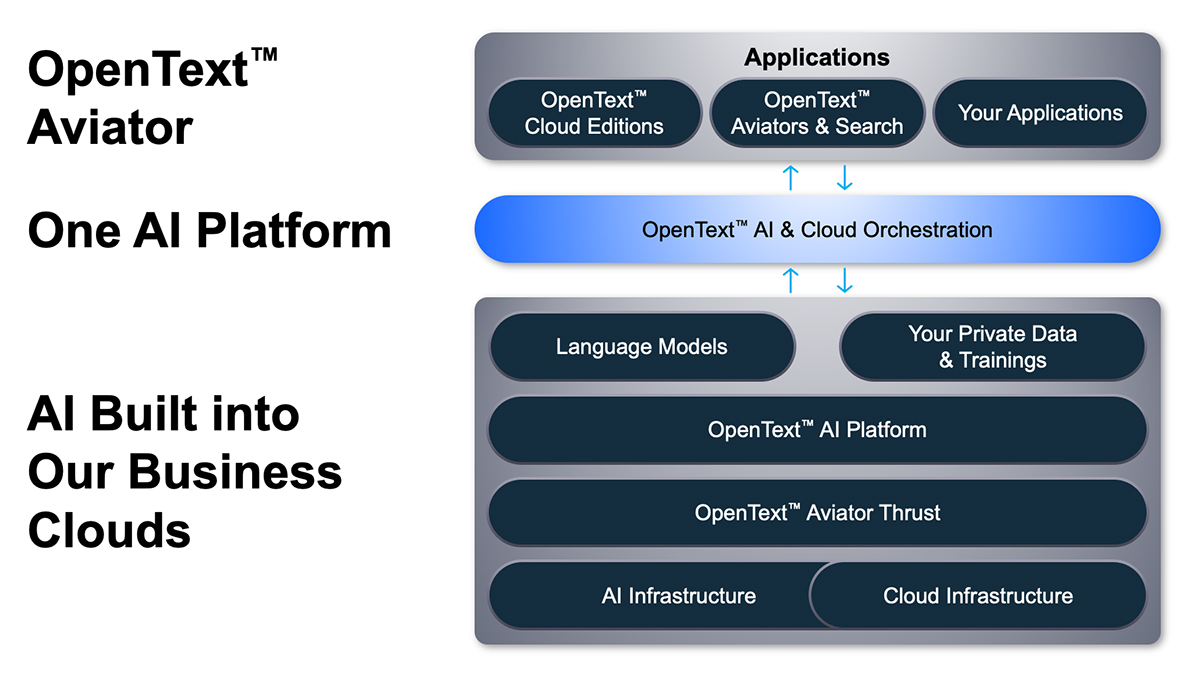 Introducing OpenText Aviator
Here are just a few key components of Aviator that we were excited to reveal at OpenText World:
Aviator Platform delivers information digitalization, with deep support for multiple large language models, offering information visualization and automating decision support.
Aviator Thrust is a comprehensive portfolio of services, spanning data governance, information protection and security, risk management and compliance. It provides a composite API, ingesting and building information flows so organizations can unlock the power of AI on large data sets.
Aviator Search lets organizations, through natural language query, interact with cognitive engines and talk directly to their data, transforming action from days to minutes.
Aviator IoT enables organizations to manage assets with automated tagging, tracking and environment monitoring, for simple and instant access to information.
Aviator Information Orchestration builds AI into automation, managing information flows across applications, our business clouds, large language models, your operational and experience data, and the OpenText AI Platform. Just as we've elevated information orchestration, we aim to optimize AI orchestration.
Aviator Business Clouds deploy AI to reimagine work across every function, through IT Operations Aviator, DevOps Aviator, Experience Aviator, Content Aviator, Business Network Aviator and Cybersecurity Aviator.
To help our customers quickly achieve new AI capabilities, we are introducing OpenText Aviator Flight School. Give us up to one million documents, and we'll upload them into our private cloud. We'll apply Content Cloud with Content Aviator and Search Aviator, enable metadata, embeddings and vectors, and give you back a full language model, ready for your prompt tuning. We'll get you up and running in two weeks from start to finish!*
AI = Ethical AI
There is no difference between AI and ethical AI, there is only AI. In addition, history shows us that every technology has a dual use—we need to think about how we design tech as well as how we use it. One of our luminary speakers at OpenText World was Dr. Joy Buolamwini, AI Expert, Artist, and Founder of the Algorithmic Justice League, and Author of Unmasking AI. Dr. Buolamwini urged businesses to proactively combat technological bias: "I truly do think that companies that invest in building fair-trade data and ethical AI pipelines are going to be the ones that win in the long term."
I was also pleased to sit down with The Right Honourable Stephen J. Harper, 22nd Prime Minister of Canada. Mr. Harper sees a strong need for industry and government to work together to establish ethical frameworks for technology, and he underlined the importance of addressing online misinformation and democratizing knowledge.
My interview with Stephen Harper at OpenText World
At OpenText, we believe very deeply in ethical practices and outcomes as we write software—from the first click, the first prompt, the first line of code, values-based design must be at the center of the process. That has translated for us into our AI Bill of Obligations:
Transparency builds trust
Your data is not our product
Respect intellectual property, images and likenesses
Security is essential
Dedicated to accurate, verifiable AI results
Promote the Common Good
OpenText is also proud to be the first signatory of Canada's Voluntary Code of Conduct on the Responsible Development and Management of Advanced Generative AI Systems. This is our pledge to uphold equity, accountability, safety and other vital guiding principles.
Earn Your Wings
OpenText is dedicated to being your trusted partner on the AI journey. I'm reminded of this quote from CS Lewis, in Beyond Personality, written many decades ago:
"It's not like teaching a horse to jump better and better but like turning a horse into a winged creature."
This is what the AI Revolution can do for us. I'm excited to see how Aviator can help our customers transform their processes, their data and their strategies into winged creatures—so their businesses can truly soar.
To learn more about OpenText Aviator and our approach to Information Management + AI, check out opentext.ai.
*Subject to customer signing OpenText standard commercial terms and conditions.